It's exciting to see concepts turn into reality, with exemplary results. This is the case with Orexplore's technology at the recent EU-sponsored X-Mine industrial workshop, targeting the European mining community. Held over video conference, the participants discussed the results and on-site application of Orexplore's GeoCore X10 and Insight software.
The X-Mine project is a ground-breaking initiative sponsored by the EU to reimagine, and remodel, the mining industry for the 21st century. The participants include fifteen partners from across Europe, with pilots in four existing mining operations in Sweden, Greece, Bulgaria and Cyprus. The collective focus is on technological innovations that yield greater resource analysis, extract efficiency and less environmental impact.
At the first industrial workshop in February, the experience and results of applying Orexplore's 3D digitised core sample analysis at Lovisagruvan mine located in the Bergslagen mining district in Sweden, was received with great enthusiasm. Fast forward to the latest workshop in July, and the X-Mine participants were privy to the results of in-field implementation of the GeoCoreX10 and Orexplore Insight software at Hellas Gold mine in Greece, with its particular geological setting. As you will read below, the results are illuminating and very positive, as those involved shared their insights at the event.
The industrial workshop, entitled: X-Mine project: Real-Time X-Ray Analysis for Efficient and Sustainable Mining, was hosted by Janne Paaso from VTT Technical Research Center of Finland. He began by stating that the objective of the project is, "to see and discuss the large-scale demonstration of new sensing methods by using 3D X-ray drill core data in real-time, and new sensor-based sorting equipment." The goal of this technology is to reduce man-hours and energy consumption while establishing a more efficient, profitable mining industry.
Once the presentation moved to practical, in-field analysis, Sofia Kalampaliki from the Hellas Gold mine presented her findings by comparing manual versus machine structural logging with the drill core analyser. "The 
GeoCoreX10
 analyser adds value to our work by identifying quickly, and non-destructively, geotechnical features like fractures, joints, lithology contacts and density measurements…this results in significant time-saving where the geologist can allocate his or her energy and time elsewhere." How much time, exactly, was demonstrated by her findings. After 8 NQ-size drill holes (850 m collectively) were drilled, core scanning could be achieved in 90 minutes versus traditional geotechnical logging in 120 minutes. In essence, for this limited test, the manual logging required two geologists with support from the machine; resources needed could be reduced to one person, leaving the other one free to attend to other duties.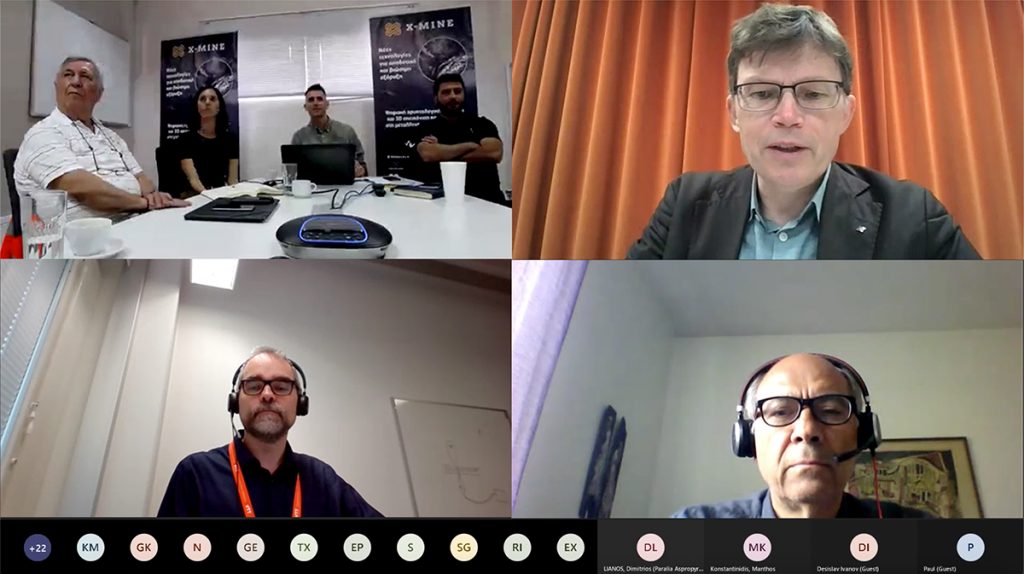 Another participant, Nikolaos Arvanitidis, looked at the process of data collection from the 3D modelling of ore deposit, a primary objective of the X-Mine project, from all four mines in the pilot. The goal was to achieve more efficient near and in-mine exploration, or "making the performance of the analytical capabilities of the scanner, better." He found that the 3D modelling tomography was extremely helpful in the Mavres Petres mine, yielding much more detail in the drill core. And at the Lovisagruvan site in Sweden, Arvanitidis said, "Scanning allows us to more easily distinguish sulphide minerals from silicates, or heavier elements from lighter; Galena from Sphalerite." For the Hellenic copper mines, the desired result was also achieved with "more accurate integrated 3D ore modelling, which improved and expanded capacity. It's amazing how quick and effective data retrieval is with this technology."
When Sofia Kalampaliki added a closing analysis of the quantitative data, she was effusive in her praise of Orexplore's breakthrough technology (described earlier by Paaso as "something very new and exciting"). The samples were analysed through Orexplore's Insight software which she described as 
"very user friendly,"
 before being transferred to Leapfrog. Likewise, Pavlos Tsitsanis, Exploration Manager at Hellas Gold
, 
described the X10 and 
Orexplore Insight
 as "effortless to use for achieving density and structural data. Traditionally it takes much more time." He also discussed the benefits of seeing more than just the production elements, adding, 
"With the drill core analyser, we have the chance to see a whole suite of elements – non-destructively – which is extremely useful for exploration purposes. It's a very powerful tool."