Challenging outdated methods of mineral extraction and analyses with new, improved innovations is central to Orexplore's vision. By digitising core samples, miners can now save time and money, extracting and sharing information with unprecedented speed and accuracy. Orexplore's managing director, Kevin Rebenius, answered a few questions illuminating the advantages of Orexplore's unique digital archive system, or Virtual Core Farm.
What is a Virtual Core Farm?
VCF is our method of turning physical drill core archives into digital ones. Traditionally, when you analyse rock sample material, the rock is drilled, the core is cut in halves, pulverised, homogenised and then sent off to a lab for analysis. The geologist typically orders a suite of elements he/she wants to check for. After 4-6 weeks, a result in the form of an Excel sheet is returned reporting the asked for elements and their concentrations. The remaining half of the drill core is then saved in huge warehouses or core yards for future reference.
When we scan material with the GeoCore X10, the breadth of information far exceeds that of traditional labs. You can get the concentrations of all elements that are there and detectable in the sample and not just a narrow selection as before. We are also able to take a tomographic image, through the core, and see all of the geological structure of minerals, on top of giving elemental concentrations and density. Soon, we hope to complement the process with digital photos of the physical drill core box as well. The idea for the geologist, in the not too distant future, is to be able to scrutinise the drill core, called core logging, without needing access to the physical drill core. The "virtual" part of this comes from the fact that we make tomographic reconstructions of the rock, allowing you to virtually look through the drill core, together with all the collected data.
— What are the advantages?
Our analysis method is non-destructive, as opposed to the traditional lab method which is not – once you have made the analysis there is no turning back and the sample is destroyed. The raw data from scanning can be saved in perpetuity and as new analysis methods are developed, those can be applied to the raw data. This is a fantastic progression, because although a geologist may currently be looking for zinc, the drill core might consist of much more, which would otherwise be wasted. Through the Virtual Core Farm, the whole drill core is saved, making it available for future generations to explore, analyse and share.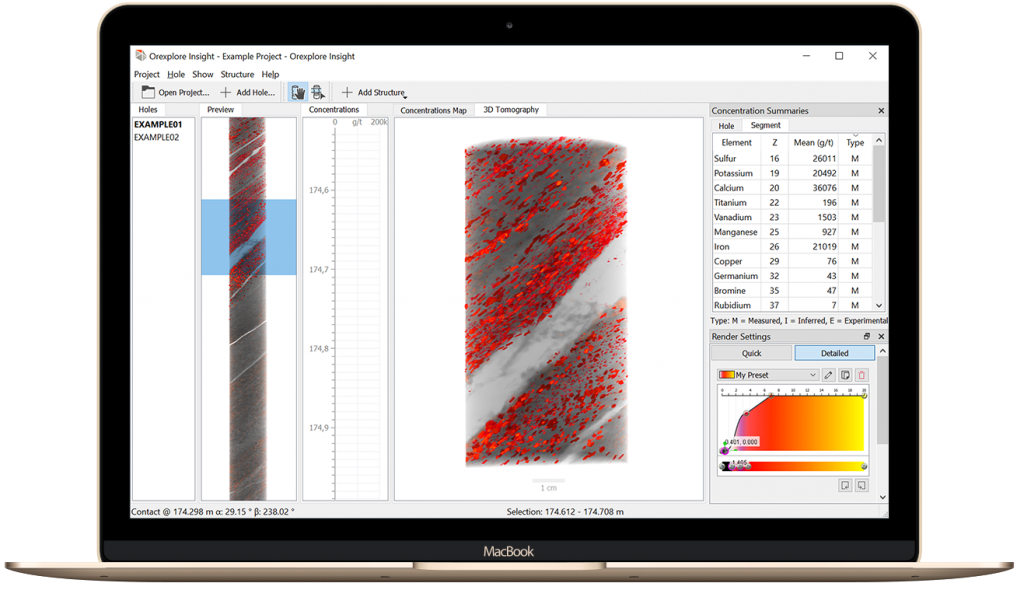 Also, the breadth of information is digitally available to anyone in the team, from anywhere. Recently, for example, we had core drilled in Africa and sent to Sweden for scanning and interpretation while analysis was made in Australia and Canada. And all of this can happen very quickly without having to be physically at the drill location. This is a huge advantage for miners and technicians.
The problem of storage for drill core will also be eliminated in the future by going digital. For instance, there is a storage in Northern Sweden (in Malå) managed by the Swedish Geological Survey that houses 5 million meters of drill core from historic drilling projects. It is a gold mine of information, and by using modern technology such as Orexplore's scanning technology, so much more information could be unveiled. Moreover, physical storage like that costs a lot of money and takes up a lot of space. In the future, I believe, the physical warehouses will be replaced by digital solutions – the Virtual Core Farm being one of them.
— Any further improvements on past methods of data collection?
When a lab comes up with a concentration number on a meter basis, only about 7 grams of the original drill core, from one of the halves are analysed, deemed to be representative of the entire meter. This is sometimes true, if the sample is homogenous. In the case of gold, which occurs in small concentrations and typically in an inhomogeneous fashion, the error in the lab's results are substantial.
— Where do you want to go with this in the future?
We want to provide geological insights and as much actionable information as possible to be easily accessible. As of yet, we have our Orexplore Insight® software and that is only part of the story. We need to further complement it with digital photographs, etc. We are working on that now.
—
Question to our readers
If you're interested in finding out more about Virtual Core Farm or would like to add any comments, please let us know. We'd love to hear from you →