— From your point of view, what are the biggest challenges to the mining industry in the future?
I think the biggest challenge is that the industry assumes that it doesn't have to change. There's a huge opportunity around de-carbonisation and mining can contribute much more to economic and social development in communities. These are fabulous opportunities and the material demands of the world won't be met without mining of some kind; the question is whether the mining industry can reconcile those challenges. 
— Michelle Ash has a question for you. What would it take to fundamentally change, or drive greater social value through mining?
Firstly, you have to change the financial model – where the investment comes from. Secondly, you would have to change the shape of the project life cycle, how a mine is designed and built. That process has to become more agile and better suited to what a community needs; and to be based a lot more on modelling and simulation. Thirdly, you would need a structure to deliver that – some kind of commercial architecture that has social and economic development as a central purpose. A core reason to exist and not something that's tangential. 
The challenge is in combining those key points, and integrating them effectively. 
— We see the adoption of new technologies in the mining industry taking many years. How can the process be catalysed?
We have to have more adaptability, flexibility, agility. One of the challenges I often mention, hypothetically, is: Imagine a future when the design of a mine (structure/layout/materials etc.) is never documented. Within five or ten years – certainly ten – it will be possible for the design of a mine to only exist in software. If that's the case, and we have the skills to use that software, we could be constantly creating new features and different options. That's the kind of vision we need if we're going to adapt at low cost – and integrating new innovations as they become available. One of the challenges in the mining industry today is that it is losing its mastery of its own technology – partly because of the way shareholders perceive head office resources as overhead. And so the mining industry is structurally struggling to apply all of the technologies that are available.
— What is the maturity level of digital systems, or industry 4.0 practices in the mining industry?
My understanding is that it is very low compared to other industries. What I've noticed is that digital technologies exist in consulting business models and are used to provide recommendations to mining companies. But, because these technologies are not well integrated and not yet at the core of the industry, the full advantages of these new innovations are not being experienced. This isn't to say the mining industry is fundamentally resistant to innovation, but it's the way in which these innovations are adopted (or not) that tends to limit progress.
— Tell us about the workplace transition that is happening across mining
Although this is not an area of expertise for me, I do think that a big challenge we foresee is where the mine has a substantial impact on a community; the traditional way to overcome this is to offer direct employment for those around it. I suspect, however, in the future, that automation will make it difficult to offer these opportunities to communities in the same way. We need to find a better way to integrate into a community development plan, rather than simply offering direct employment.
— Where do you see the value of high resolution, 3D big data technologies (i.e. satellite technology, LIDAR, sensor-based core logging, geophysical technologies and online sensors)?
The major problem of mining is that we don't know what's in the ground. Now we're seeing new technologies applied to this problem – advanced sensors, for instance – and these could mean several things. One is that there will be less risk in a mine plan. Two, you could change the shape of the mine life cycle, through real-time planning, which could mean cost savings. The third way is that these tools could change the engagement of the communities around mines. 
Ultimately, the increased availability of intelligent exploration tools could even alter the ownership model and extraction rights of mining, because these are currently based on the difficulty of determining what's in the ground.
— What applications do you see for the Orexplore suite of products?
I think one advantage is granular detail; the ability to see what exactly is in the ground. And the other is saving time (and money). Moving faster is incredibly important, and will continue to be; the ability to draw faster conclusions will have a large strategic impact. With advanced sensors, we will be able to react immediately to core samples by changing mine plans. There could be less crude guess work. 
— What are the barriers to adoption of these technologies? 
The industry is currently stuck in its existing paradigm, organisation silos, and technology risk-aversion. It's not obvious how to change this. The challenge is that it's very difficult to bring a modelling and simulation platform into the core of the industry. Nobody has cracked that yet. It will take time. 
— What trends do you see in the industry from a sustainability perspective?
There's been a significant change in the industry, with much more investor focus on ESG (Environmental, Social, and Corporate Governance). I think the customers of mining are in fact the investors. And the customers have choice – they can continue to invest in mining or not, and now they're saying if you want us to continue investing in the industry, you need to improve performance. What we're seeing is the growth of certification schemes that help identify ESG risk for investors. So, that's the first step forward. But, there's still a long way to go with regards to sustainability.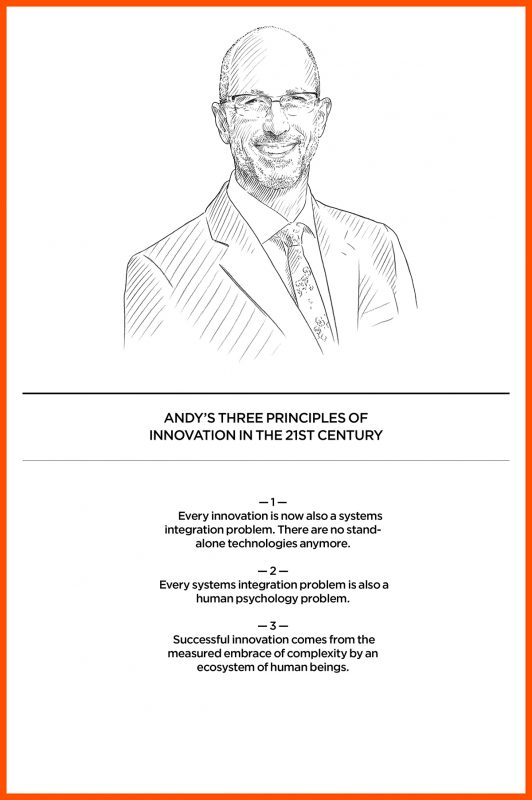 Name: Andy Reynolds
Age: 53
Lives: Nanaimo, British Columbia (Canada)
Title: President, Inspire Resources Inc.
Career in summary: Andy's experience includes almost a decade managing resource sector research and development in Canadian government labs. He had migrated to Canada in 2009 after a 20+ year career as a marine engineer officer in the UK's Royal Navy, where his roles included front line operations and maintenance, management of technology, procurement, programs and portfolios, and international collaboration. Now in his third career, he is focused on business model innovation in mining, where he sees global decarbonisation as an opportunity for community improvement.
Read More → How to integrate new technology